Cosplay Lip Sync Battle
"Perform" your favorite song in costume during this popular musical competition.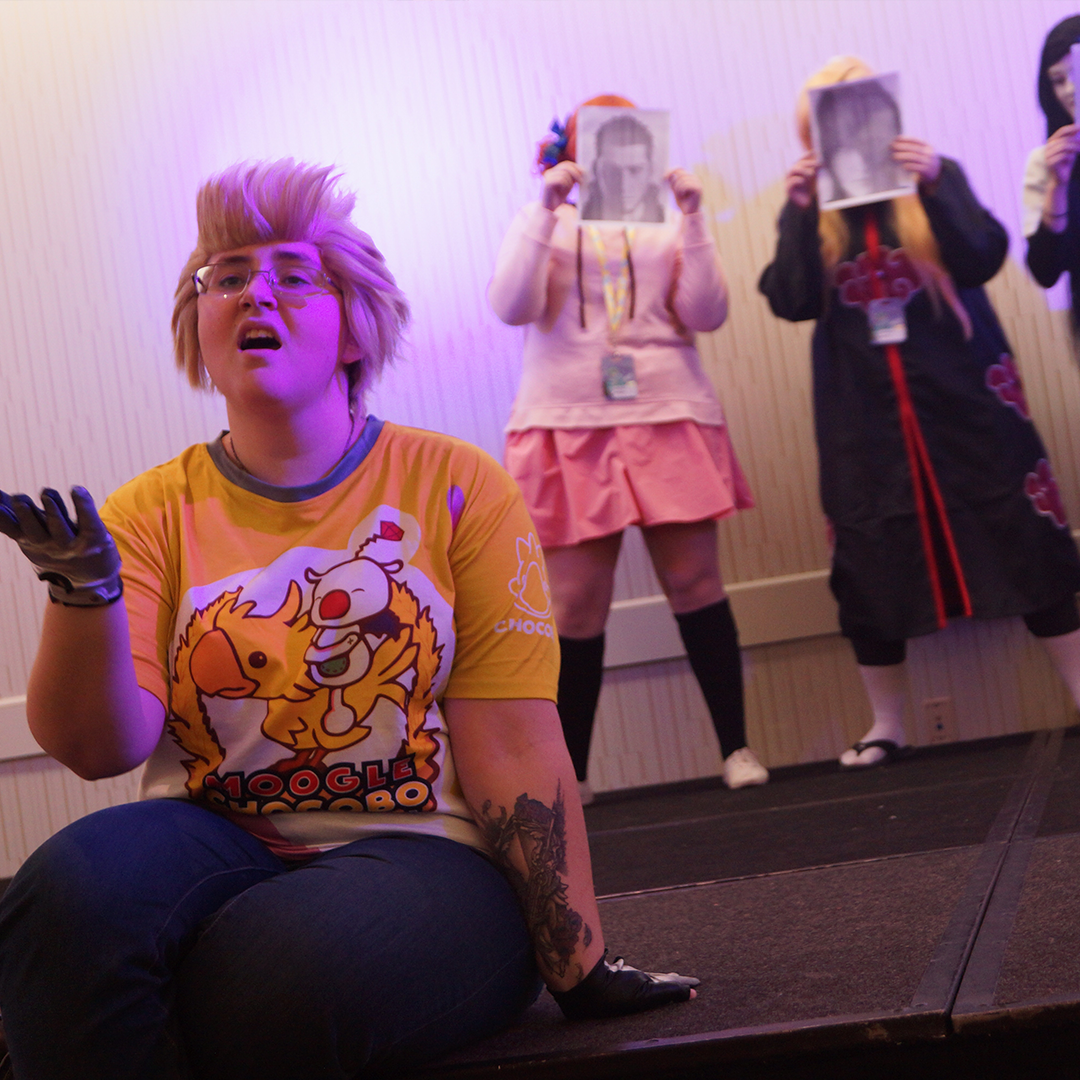 Dramatics, theatrics, and performances you won't want to miss! Whether you're competing on stage or watching as a fan in the audience, the Cosplay Lip Sync Battle is full of excitement for everyone. Cosplayers participate in this showcase of stage performance mechanics and fake singing as they compete to be the Best in Show! 
With the overwhelming number of participants eager to be a part of the Cosplay Lip Sync Battle from previous years, we have decided to now accept sign-ups in advance. These will no longer be done on-site, and the top 15 submissions will be chosen to compete live on the WasabiCon PDX Main Events stage.
Do you think you have what it takes to win? Registration and rules have changed for this popular event so be sure to read everything before signing up below!
SIGN-UP: 2023 sign-up is now closed. See you at the show!
SETUP: Sunday, July 30th at 4:00 PM in Main Events (Atrium Ballroom)
EVENT: Sunday, July 30th at 4:30 PM in Main Events (Atrium Ballroom)
Competition Rules
You must have purchased an entry into the convention in order to enter/present on stage for the Cosplay Lip Sync Battle.
The Cosplay Lip Sync Competition is a family-oriented event. Please keep all costumes and performances to a "PG-13″ rating i.e. no nudity or overly revealing attire.
All songs must be appropriate and should be submitted in their "public radio edited" versions without vulgarity or obscene, indecent, and profane content.
Spots are limited for this event, though we wish we could accept everyone! The top fifteen (15) competitors will be chosen by the WasabiCon PDX team based on all entries submitted. Five (5) additional submissions will be placed on a standby list in the event that any of the original fifteen (15) selected are not available or to not appear at the time of the event. All remaining submissions who were not selected for either the competitor spots or for the standby spots will be notified that they will not be participating. All notifications will be sent out via email on Monday, July 3rd, and in the event that a competitor fails to respond by Friday, July 7th, their spot will be forfeited. Please be sure to keep an eye on your inbox!
If selected, competitors will need to email the song they will be performing to in an already edited MP3 format that will be provided to the show technician. Songs must be no longer than three (3) minutes in length. All songs must be received no later than Friday, July 14th.
All competitors must report to Main Events (Atrium Ballroom) at 4:00 PM on Sunday, July 30th for their call time for this event. One minute per competitor will be allowed for a brief sound check with the technician, however please note that this is not intended to be used for a full rehearsal.
Only one entry is allowed for individuals or groups, performers are not allowed to participate in multiple submissions.
All weapons and props must conform with convention policies, hotel/conference center rules, and local laws concerning carrying a weapon. If there is a question of doubt, don't bring it. You can read our event rules, including our Props Policy, online at https://pdx.wasabicon.com/policies/
For the safety of our performers, footwear of some sort must be worn at all times while participating in the Cosplay Lip Sync Battle. Even if the character you are performing as does not typically wear shoes, this is a requirement and will not be allowed on stage.
For the safety of performers and audience members, stunts are not allowed as part of the Cosplay Lip Sync Battle and can include (but are not limited to) jumps on/off stage, front flips, back flips, throw based stunts, etc.
Additionally stagecraft that you are unable to quickly set and remove yourself between performances are not permitted. Props are allowed so long as they similarly fit in those parameters, however our staff may not be able to assist you with this so plan accordingly! (For example, you would be allowed to bring something like a chair onstage for your act but not an entire backdrop.)
Special effects including but not limited to fog machines, pyrotechnics, lasers, water effects, confetti, glitter, or throwing items of any type into the audience are not permitted.
Lighting requests cannot be accepted at this time for the Cosplay Lip Sync Battle. Please note that the Main Events room will be fully lit throughout this event and cannot be turned off, dimmed, or coordinated to specific cues as part of your act in any capacity.
Green Mustard Entertainment, Inc. reserves the right to modify, update, or amend these rules at any time.
Thank you for your interest in WasabiCon PDX, we look forward to seeing your performances!
What to Expect
Competitors for this year's Cosplay Lip Sync Battle must submit a video showcasing their performance ahead of time.
Submissions for the Cosplay Lip Sync Battle will be open on this page until July 1st.
All competitor submissions will be reviewed and the top 15 performances will be chosen to go on and compete live on the WasabiCon PDX main stage. These competitors will be contacted via email to let them know that they have been accepted into the competition. All competitors will have until July 7th to accept their spot or it will be forfeited.
5 additional submissions will be chosen for standby spots in the event that one of the top 15 submissions is unable to compete.
Submissions who are not selected to compete or for the standby spots will be contacted via email to let them know they will not be competing.
All competitors must provide the song they will be performing to ahead of time and will be assigned to perform in the order that their songs are received. These should be received no later than July 14th!
At 4:00 PM on Sunday, competitors will be asked to gather in Main Events (Atrium Ballroom) for setup. Competitors will be allowed one minute each for a final sound check with the Main Events technician.
At 4:30 PM on Sunday the Cosplay Lip Sync Battle begins. The competitors will perform live for the audience and a panel of judges, after which the judges will deliberate and choose who will win Best in Show and Runner Up.
Categories
Meet this year's Cosplay Lip Sync Battle Judges!
Ask Cosplay-Senpai
From cosplay to panels and so much more, Ask Cosplay-Senpai returns once again to judge the Cosplay Lip Sync Battle at WasabiCon PDX! This incredibly talented cosplayer is currently pursing degrees in both fashion and technical design at the Portland Fashion Institute in Oregon. Some of this judge's skillsets includes pattern drafting, 3D modeling, fashion design, and stage work. Alongside this, Ask Cosplay-Senpai has demonstrated a kean eye for performance with over 45K followers on TikTok!
Callicake
A local Pacific Northwest cosplayer and panelist who loves to talk about anime tropes, scary games, cosplay build techniques, and how to get the most out of a D&D adventure! Callicake returns to judge the Cosplay Lip Sync Battle at this year's event. This wonderful cosplayer has also served as a cosplay judge and emcee for various other events and competitions including Yamacon and Anime Senpai. Entertainment is something Callicake pays a lot of attention to and takes seriously, with this shows in the following they have garnered on TikTok of over 130K followers!
ClickClackSnac
A newcomer to this year's Cosplay Lip Sync Battle judging panel, ClickClackSnac an award winning plus size cosplayer who focuses on props, wig creation, body positivity, and overall support of diversity in the cosplay and tabletop roleplaying game community. In addition to cosplay, ClickClackSnac is a TTRPG Actual Player and has even had writings published through Daylight Publications. With almost 10 years of experience in performances of Rocky Horror Picture Show shadow casts, this judge really knows what it means to take the stage. Even with all these interests, ClickClackSnac finds time for TikTok with over 55K followers!